STRUCTURAL PRODUCTS NTS is the market leader in the supply of Hot Finished and Cold Formed structural hollow sections, with in excess of 30 000 tonnes of structural products in stock. Our stock includes:
Hot Finished Structural Hollow Sections to EN10210 S355J2H/S355NH
Hot Finished Elliptical & Circular Structural Hollow Sections to EN10210 S355J2H/S355NH
Hot Finished Seamless Structural Hollow Sections to EN10210 S355J2H/S355NH
Cold Formed Hollow Sections to EN10219 S275J2H/S355J2H
Cold Formed Circular Hollow Sections to EN10219 S275J2H/S355J2H

OFFSHORE STRUCTURAL PRODUCTS In addition to the standard grades of Structural Hollow Sections, NTS has a specialist stock of high grade material for the offshore construction industry to EN10225. Managed by an expert and dedicated team and working with the very best steel mills across the globe, NTS now offers this industry access to ex-stock, high quality material and the processing capabilities needed.
EN10225 S355G13+N
EN10225 S355G15+N
EN10225-4 S355NLHHO
EN10225 S355G15+Q/API5L X52 PSL2
EN10225 S355G8+N/API5L X52N PSL2
EN10225-4 S355NLHCO or S355MLHCO
MECHANICAL TUBES With over 4 000 tonnes of mechanical tubes stocked in North Yorkshire and over 50 000 tonnes of specialist stock available across the Bianco Group, NTS offers the most complete range of mechanical tubes available in the UK, sourced from premium manufacturers around the world. With a size range from 21.3mm right up to 812mm diameter we are confident that we can meet your requirements. NTS can offer you a wide choice of specifications including impact tested material and high yield carbon hollow bar, either in random stock lengths or cut exactly to your own specifications. All our material is certified to 3.1 and fully traceable to the mill origin.
COMPOSITE (GRP/FRP) PRODUCTS Glass reinforced composite access products offer major advantages over traditional metallic products including weight-savings, zero maintenance and superior anti-slip benefits. Our wide-ranging stock levels of gratings, hand rail and structural profiles ensure we have a product off-the-shelf to meet most applications. Whether it be plain uncut panels or custom fabrications, we have a solution for every requirement.
PIPES, FITTINGS AND FLANGES At NTS we hold a comprehensive stock of Pipe, Fittings and Flanges for the Process and Petro-chemical Sectors. Our size range covers ¼"nb to 24"nb in Seamless and from 6"nb to 48"nb in Welded API 5L GRB.  We can offer stock availability for immediate delivery and complete support for complex major global infrastructure projects, in compliance with detailed specifications. We stock Linepipe grades to:
 API 5L GRB/X52
 ASTM A106 GRB
 API 5L GRB ERW/SAW
 ASTM A333 GR6
We also stock a wide range of Fittings to ANSI B 16.9 and forged Flanges to ANSI B 16.5.
Pipes, Fittings & Flanges Brochure >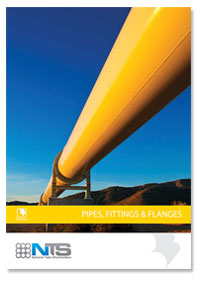 HYDRAULIC PRODUCTS NTS is the market leader of Hydraulic Products in the UK. With stocks in excess of 5 000 tonnes, our extensive product range provides a one stop shop for hydraulic cylinder and accumulator manufacturers. Our comprehensive stock range includes:
Cold Drawn Honed/Skived Bore Tube – up to 250mm bore, up to 10 metres long
Hot Finished Honed/Skived Bore Tube – up to 700mm bore, up to 10 metres long
Suitable for Honing/Skiving
Smooth Bore
Chromed Bar in Grades 20MnV6 and CK45
Stainless Chromed Bar
Induction Hardened Chromed Bar
Cast Bar
Hydraulic Line